8 of our best black door handles
Why have we picked out eight black door handles? Well, we reckon there are eight black styles and designs in particular, which each have great appeal. Great quality, great engineering, and great design. Plus, these door handles, we think have equal appeal to the current trends and demand in Australian interior design and new home builds.
Black fittings and styling is big, for budget new home builds, medium level renovations, and high end stunning new homes.
Black colour themes in new homes and renovation projects
The trend in black in home styling colour palettes, really emerged only just a few years ago into the mainstream. Now, black is very common. Mostly with window frames and other fittings. Feature pieces, like furniture and art. And then, stunning black tapware from some great brands like Mondella, Shaw & Mason and Methven.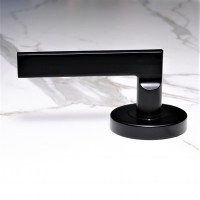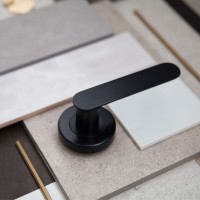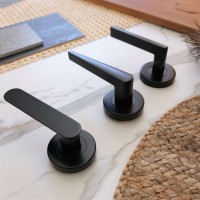 Black door handles to suit black home interior themes
Lemaar is an Australian owned door hardware company. The Lemaar team of door hardware specialists, design each product here in Australia, to meet the current and future demand of people building their new home or renovating, and builders planning their next home designs for future customers.
The emergence of new styles in black door hardware
A few years back, you could easily find a few black door handles styles to suit a colour palette with black. A few square designs and perhaps a round, contemporary handle. Now, the available options in black door handles is wide. Lemaar, constantly introduces new styles to offer builders and home owners more choice, and most importantly, give them what they're looking for.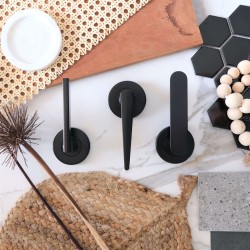 The latest demand in the black door hardware category
Current demands in home styling, no matter the colour or finish, now include a deeper range in contemporary options. Lemaar has recently introduced new black door handles, of which meet this demand.
8 of our best black door handles
Here are seven black door handles, that we think fit the current demand for black, right now in 2022.
1. Black smart lock, Rectangle, by Lemaar
Contemporary, stunning, this digital lock we think, will be very popular in 2022 through to 2025. Introduced in 2022, the Rectangle smart lock has multiple features for security and convenience to compliment any smart home.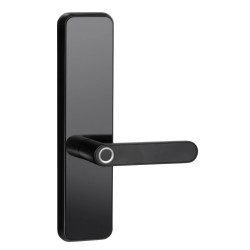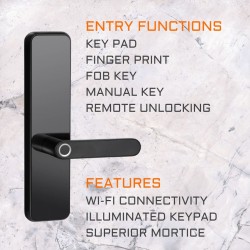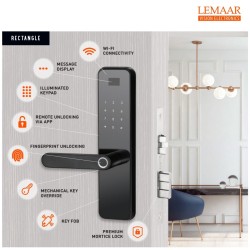 2. Orba, black front door handle, simple, stunning
With a round rosette or backplate, and narrow thin handle, the Orba is popular and will continue to be long into the 2020's.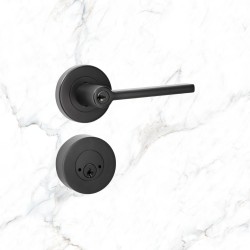 3. Black classic door handle, the Calida, one of our greatest
Classic, stylish and with wide appeal, the Calida is one of our most popular styles and has lasted the test of time due to it's wide appeal. The Calida will suit contemporary and classic styled homes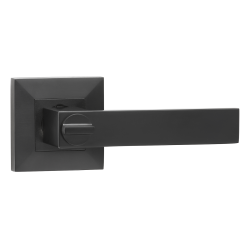 4. Contemporary black door handle range, the Javea complete solution
Straight lines, and a minimalist design, the Javea is always one of the most viewed and purchased door handles in our range.
5. DDA compliant black door handle range, stunning Gala range
DDA door hardware, that looks smart, and functional. The Gala brings a stunning look for those who need DDA door handles.
6. Black door handles that meet contemporary and conservative styles, the Metz range
Round lines, flat fronted handle, the Metz is just beautiful.
7. Relaxed, and stylish, the Palma black door handle range
A relaxed feel, the Palma is popular for those who want soft edges and a warm feel.
8. Entry Pro 3.0 - our newest and we think, will be the best black front door handle
Simple, elegant and mimimalist. The Entry Pro 3.0 in black is new in 2022, and is sure to be one of our most popular door handles. Can be matched with the Javea interior door handle range so you get a complete solution of matching door handles.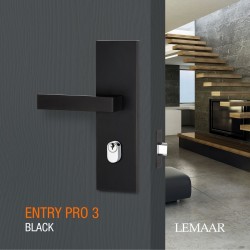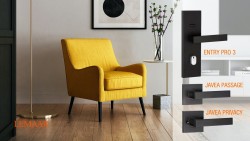 How to choose the right black door handle for your new home?
With all these options, first you need to pick the right style to suit the overall theme of your home. Square or round, bold or minimalist.
More ideas and information
To help you on your journey, here are a few more articles to check out.
Why you should do some research into black door handles
How to choose the right door handle for your home
Lemaar door hardware
Lemaar offers a complete solution in door hardware for residential and commercial applications. If you're in the trade and would like to connect with our Commercial Projects team please email your query or plans to tradequotations@lemaar.com.au. Our range includes the latest colours and finishes including white and brushed brass door handles, plus fire rated, 316 marine grade stainless steel and DDA compliant door hardware. Lemaar is Australian owned and we design all door handles in Australia to meet the local trends and demand for quality and for easy installation.