Whether you're renovating your home or updating an investment property, it's important to make sure you consider all elements of your project. The choices you make from style and quality, to security and functionality can add significantly to the value, look and feel of your property. Each project is unique and so whether you have experience with interior design and renovations, or this is your first project, we encourage you to consider all your options before getting started, with the aim to complete a well-thought-out renovation or build. Lemaar makes chosing and installing door hardware easy. Lemaar door handles are available in a 'complete solution' or range of matching styles from entry, passage and privacy door handles. The Lemaar range of door handles are available in the latest designs and colours and classic designs also.
Tips for Choosing Door Hardware
Style and interior design
The starting point for most is the overall design and style of the project. Be it classic, modern, scandi or minimalist, the finishes you choose will go a long way towards bringing your inspiration to life. Make sure you consider a wide range of products to ensure that the door hardware you choose fits seamlessly with your interior style and lifts the look of your home. And there are so many things to consider. Style, colour, finish, functionality and security.
Colour and finish
Colour and finish is an important consideration and should align with the overall style, design and colour palette of the project whilst also considering other elements such as tapware, kitchen cabinetry, and even interior window frames. Keep in mind that door hardware can blend in with other interior elements, but can also be used as feature in the home.
Rosette
Next to consider is the rosette, or the backplate of the handle that sits on the door. Rosettes provide the functional mechanisms, and also an opportunity to add a decorative finish. Rosettes are usually square or round.
The handle
The handle itself should be considered firstly for functionality, then the design or look that you're after. Handles are available as square or round, and either slimline or more solid profile.


Security
Security is mandatory. So, to keep your home and family safe, your choice in door hardware should be a top quality brand with a strong warranty.

Choices are stand-alone door entry handles or handles with deadbolt.


Other important considerations
Fire ratings for door handles are important in many areas of Australia. Lemaar has fire rated products that also comply with Australia Fire Safety Door requirements. Haro DDA compliant fire rated door handle. Lemaar offers DDA-compliant door handles designed specifically for ease of function for people with a disability. For specific instructions on how to maintain Lemaar products please follow this link to the Maintenance page. Lemaar products come with a market-leading warranty against defects in materials and workmanship. Lemaar door handles are designed for ease of installation, for both builders and DIYers. Each product includes an installation sheet that can be found with other DIY advice on product pages.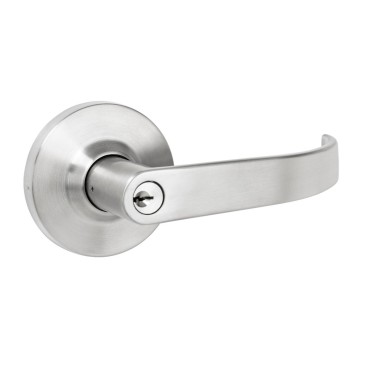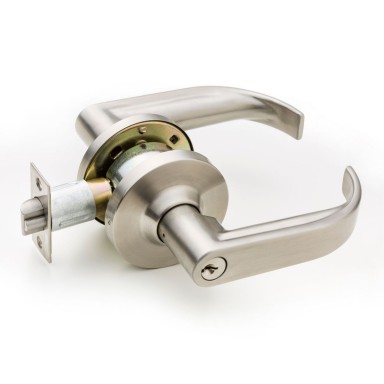 Haro Glass Door Handle DDA Fire Rated 316 Marine Grade Satin Stainless Steel
Door Handles by Lemaar
Lemaar makes it easy to choose matching door hardware products so you achieve a complete solution right across your home or project. Our range includes the latest colours and finishes including white and brushed brass door handles, plus fire rated, 316 marine grade stainless steel and DDA-compliant door hardware. We continually introduce new door handles, to meet the demand of what customers are looking for, to fit within their home interior design style. These styles need matching fittings such as door hardware, to match feature pieces and fixings such as tapware. This is why in 2022 we introduced new white, stainless steel and brushed brass door handles. Our aim is for door hardware to be easy to choose with a complete solution with matching entry, passage and privacy handles, and door handles designed for easy installation and efficient installation for Builders. We stand by our products and offer a strong warranty, and we also recommend regular maintenance, please refer to our maintenance page on this site. For inspiration, please check out our inspiration page where you can see mood boards, videos and images of our range of lifestyle images. You can use the product filter on the Products page to sort by door handle type and colour. Australian-owned and designed, Lemaar offers artistry in door furniture. If you're a Builder you can connect with our Commercial Projects team or email your plans to tradequotations@lemaar.com.au