Decor styles and door handles
Your home is a place where you want to relax and enjoy time with family and friends. Styling is an individual decision and will depend on many things such as your personal situation and stage of life. Careful attention to detail is important in creating a cohesive, stylish and comfortable home. Choosing your door handles and hardware should be as deliberate as selecting that perfect sofa.
How can I decide which door handles and hardware to choose?
The following ideas are provided for ten popular decorating styles in Australia. We have suggested complete solutions for door handle and hardware for each style. Some solutions apply to multiple decorating styles, while other solutions are particularly suited to specific styles. There are many alternatives and possibilities in the Lemaar range of products - you are limited only by your imagination. Check our website for a comprehensive range of front door handles, interior door handles and door hardware products to suit your own design requirements.
Styling Traditional
Traditional design style draws on a wide range of decorating styles, based on European aesthetics, offering classic details, plush furnishings and luxe accessories. Dark polished wood, rich colour palettes and a variety of textures and curved lines characterise this décor style. Symmetry is important so home furnishing often includes matching tables, lamps and mirrors. Think fabrics like velvet, silk and brocade that may include a variety of patterns and textures, skirted furniture, classic pieces such as Chesterfields and Louis chairs, elegant wallpapers, statement lighting, period paintings, antiques, curated vignettes, oriental rugs, chandeliers and architectural details such as French doors, architraves and ceiling roses.
If this is the look you want to create, then explore our collections including the Avila range that offers you a complete solution of matching entrance, passage and privacy door handles which will achieve that elegant and comforting ambience that you want for your home.
Door hardware to suit traditional styling
The curved lines of the Avila range of door handles and hardware in satin chrome and chrome plate, including a privacy set, complement the architecture and décor typical of traditional styling.
Styling Contemporary
Contemporary design is constantly changing. Unlike other decorating styles that may be well defined, what might be 'in' today as a contemporary look may be 'out' tomorrow. Think about different trends over time, from the use of curved lines, neutral colours and minimalism to a focus on indoor-outdoor living...what will your needs be in 5 years…10 years…20 years? Use of black and bold colours can transform the look of a home to provide different moods over time. Sliding doors enable flexible use of open spaces and allow people to adapt to changing tastes or the need for different functions.
If you want to maintain, or create, a contemporary look to your home, then explore our collections including the Altro and Orba range that offers you a complete solution of satin chrome and black door handles and hardware, and the Lemaar 120 x 40mm Radius Oval Flush Pull for sliding doors, to achieve flexibility in meeting your changing future décor options.

R ARCHITECTURE @rarchitecture_melbourne
https://unsplash.com/photos/KQgrVfR3r74
Door hardware to suit modern styling and decor
Styling Coastal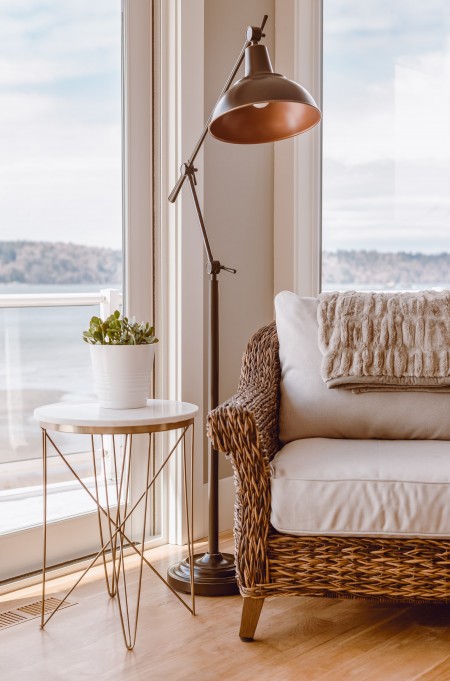 Tina Witherspoon
https://unsplash.com/photos/fpKrFJUiPA8
Door handles to suit coastal interior design
The Almeri white and brushed brass door hardware range is becoming
very popular in 2021, and we see this trend growing into 2022. White
and brushed brass door handles suit coastal style homes. The Almeri
range comes as a complete solution with front door, passage and privacy
door handles, so you can get the same style across your home.
Styling Hamptons
Hamptons style homes are usually light-filled, bright and whitewashed with a sophisticated yet beachy vibe that feels both effortless and calming comfort with a touch of luxury. Many Australian homes have adopted and adapted this open-plan, breezy house style which originated on the east coast of Long Island in the USA. Base colours are pure white, off-white or white-on-white combinations. The classic look is cream with black accents, or all black with white or metallic accents, paired with natural materials for warmth. Shades of blue check and stripe patterns are also seen in this decorating style. Think comfortable, overstuffed, luxe white sofas, buttoned cushions, linen throws, jute rugs, driftwood, large indoor plants and cobalt blue accents. If this is the look you want to create, then explore our collections including the Orba or Almeri ranges that offer you a complete solution of black, satin chrome or brushed brass door handles and hardware to achieve that natural but sophisticated design you want for your home.