Quick links to white door handles - click below
White Almeri front door handle
To see the entire white door hardware range click this link
White front door handles, interior handles and white door hardware
White is the new black! Well, it's definitely the most viewed door handle colour at www.lemaar.com.au
White fixings suit many home styles, including coastal and modern. And our white range of door handles and door hardware let you get the same matching colour and design throughout your home.
White door handles - passage and privacy handles
The Almeri door handle range is modern and stylish. With a round rosette and flat faced handle, the Almeri will lift the style of your home and can be matched with other white fixings such as tapware and feature pieces such as furniture and artwork.
White front door handles
The entrance to your home provides and opportunity to make a statement. The Almeri white front door handle does exactly that. And can be matched with a flat round white deadbolt for additional security.
If you're going for a more contemporary look, then consider this white door pull which can also be matched with a white round deadbolt. This back to back door pull is 450mm long and 25mm wide.
White door hardware accessories to match
This range of white door hardware includes white hinges, door stops
More inspiration and ideas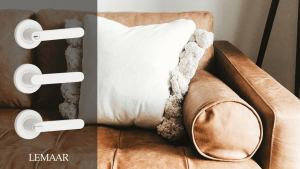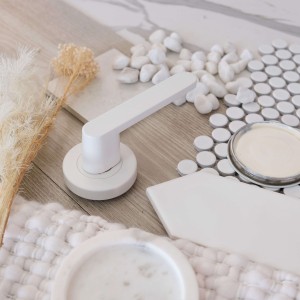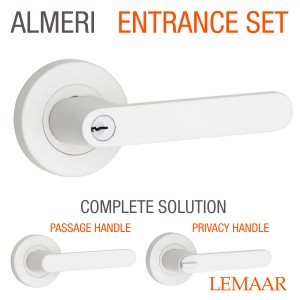 For more ideas on choosing the right door hardware for your home, check out the below articles.
White home styling trend and matching door handles
How to choose the right door handle
10 home styling themes and matching door handles