White door hardware complete solution
The on-trend colour in door hardware in 2021 is white.
Australians are increasingly styling their homes in clean, all white themes, with feature pieces. The white Almeri door handle range is one of our most popular, with matching white front door handle, and white interior door handles.
Matching white door hardware
To compliment our white door handle range, Lemaar has also introduced white door hardware, including a white door pull, white deadbolt, white flush pull, white hinges and white door stop.
White door hardware range
Here's a snap shot of Lemaar's white door hardware range.
Almeri, white front door handle
Modern and clean, the Almeri in white will add a touch of sophistication to any home. This complete solution of matching entry, passage and privacy door handles, allows you to get the same look throughout your home.
To see the entire range at www.lemaar.com.au click this link to use use the product filter.
Need ideas???
Inspiration - white door hardware mood board
To help with styling ideas, click this link to see a mood board featuring the white Almeri passage door handle. Styles include Coastal and modern, with ideas for flooring, bathroom tiles, kitchen tiles, wallpaper, paint colour and accessories.
Use the arrows to scroll through various images of white door handles and mood board styles.
Articles
Here are some links to articles to help you choose the right door hardware for your new home or renovation.
White styling and door hardware styling ideas, click this link.
For ideas on ten styling themes and matching with the right door hardware, click this article link.
If you're considering the Almeri door handle in white then click this article link for further information and reading.
Help with door hardware - customer service
If you have any questions or need further assistance with choosing door hardware, please don't hesitate to contact the Lemaar customer service team at customerservice@lemaar.com.au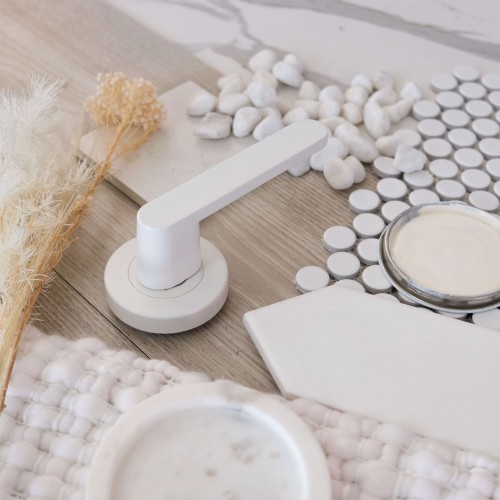 Door hardware by Lemaar
Our complete solution in door hardware makes it easy to choose the same finish or colour across other door hardware categories. You can use the product filter to sort by colour and type. Lemaar is an Australian owned door hardware group and we design all door handles in Australia to meet Australian trends and demand for straight forward installation, quality and trends. Our range includes the latest colours and finishes including white and brushed brass door handles, plus fire rated, 316 marine grade stainless steel and DDA compliant door hardware. If you're a builder you can email your plans to tradequotations@lemaar.com.au or email a query to our Commercial Projects team.