Decorating with black will add drama, elegance, and classiness to any living space. Black will never go out of trend, you just have to know how to use it to your advantage. Use black as an accent in things like window frames, tapware, door hardware, etc. to create a sophisticated air to any interior style.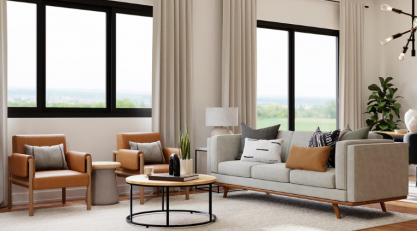 Eclectic Living Room, Unsplash @Spacejoy
Contemporary Eclectic Interior Design
A touch of retro, contemporary and traditional pieces with luxe, on-trend materials such as marble will create a fresh and relaxing space. To achieve a gorgeous interior, follow the same shades and shapes throughout your home.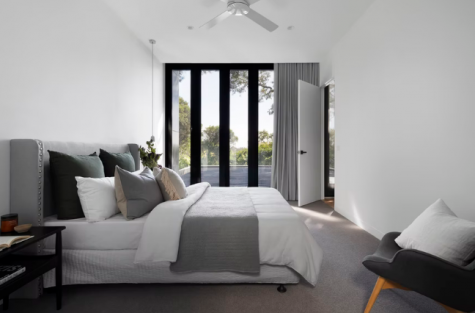 Modern Architecture, Unsplash @R. Architecture
Exquisite Modern Interiors
Modern interior style is best described as clean, innovative, and luxurious. It has a touch of minimalist style, meaning it is simple and follows a specific palette (bold monochromatic colours) from grey, silver, white, black, dark chocolate, and greyest blue shades.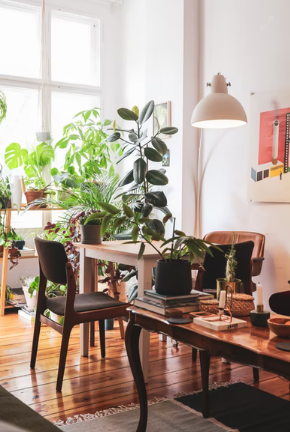 Bohemian Living, Unsplash @Beazy
Bohemian Chic Interiors
Bohemian is a unique interior design style that is carefree, flexible yet gives a luxurious vibe. This style is one of the most environmentally-friendly because it champions natural elements - pieces of furniture, accents, made from wood. Handmade items like paintings, sculptures, wall hangings, and other decorations made by local crafty artisans play a huge role in a boho-themed interior design. And last but not least - plants.
Lemaar has a wide range of black door hardware from door entry, door handles, architectural door hardware, and sundry door hardware. These are all made with quality materials, the latest style, and backed with a market-leading warranty. To view our Black door hardware, type in 'Black' in the search bar (on our website, top right), or use the product filter by clicking this link.
Complete Solution
Lemaar offers, what we call a 'Complete Solution' to door hardware. This is to ensure that you achieve the same look throughout your home. Most of our door handles are available in matching style and finish from front door handles (entrance set), passage set, privacy set and dummy lever set.



Lemaar Orba Complete Solution - Black
Quality You Can Feel
Lemaar door handles are designed in Australia for Australian home styling. The design process includes the overall size, shape and internal design. Lemaar door handles are not only strong on the inside, but also on the outside with a quality finish. Plus, Lemaar door handles are manufactured with solid nickel or solid stainless steel. This construction with high-quality finishing gives a quality you can feel when you pick up the handle out of the box, or when you use the door handle each day in your home.
Black Door Handle Finish
The quality and finish are important to consider when choosing black door handles, because this part of your home will be used multiple times each day, and over a few years, this means you need a durable door handle with a strong warranty. Lemaar uses an electroplated finish which is superior, more durable, and longer-lasting. Other brands use an inferior powder-coated finish, which will not stand the test of time.
Door Handle Installation
Lemaar is trusted by Tradies, easy to install by simply following the installation sheet and template included in the box or on the product page on their website. To get a feel if you can install Lemaar's door hardware yourself, below are the main steps and tools that you will need.

Step 1 - Mark the Door
As all good tradespeople will say 'measure twice, cut once'. Fold and apply the installation template to the edge of the door and mark the latch hole and the handle hole position on the door.

Step 2 - Drill Holes
Drill out the handle hole with a circular saw. About 25mm in the edge of the door to the depth of the entire latch. Stop drilling when you first see the pilot bit through the other side of the door, for a clean finish.
Step 3 - Install Latch
Insert the latch in the hole and mark out the position of the plate. Mortise the latch faceplate using a chisel to the recommended depth. Insert the latch then screw it into place.
Step 4 - Install Lock Body
Place the door handles into the holes and check for alignment. Start with the outside handle first. If you are installing a privacy door handle, be sure to have the locking side on the correct side of the door. Hold the knobs in place and screw them in. Keep in mind that only properly aligned screws will thread quickly when you turn them.
Step 5 - Install Strike Plate
Mark, drill, chisel and fit the striker plate to the door jam. Close the door and use the latch to determine where the hole for the striker plate needs to be positioned. Use a screwdriver or drill to secure the strike plate in position on the door jamb.
Lemaar door hardware requires proper maintenance to make sure it'll last long (see it here, Maintenance). And all our products are backed up by market-leading warranty.
Need more help?
If you can't find the answers or solutions here, then feel free to call our customer service team on 03) 9580 1630, or via email at customerservice@lemaar.com.au
Further reading regarding black door handles
Black, Front Door Handles
https://lemaar.com.au/articles/black-front-door-handles/
Interior Design Themes: Choosing Black Door Handles to Match Black Window Frame and Black Tapware
https://lemaar.com.au/articles/interior-design-themes-choosing-door-handles-to-match-black-window-frames-and-black-tapware/