Quick links - click image or link
Surface mount and mortice indicator bolts are installed on bathroom doors for easy locking from the inside, whilst indicating on the outside if the bathroom is vacant or occupied. Lemaar's range of indicator bolts are DDA compliant, and these include surface mount indicator bolts and mortice indicator bolts with mortice installed in the door cavity.
Mortice Indicator Bolts
With a mortice that's installed into the door cavity, mortice indicator bolts are DDA compliant and provide a strong and secure solution. Available in black and satin chrome, these indicator bolts are easy to install and match Lemaar's complete solution in door hardware with a wide range of door handles and door hardware products.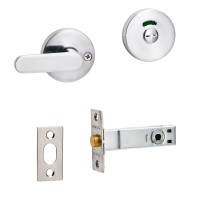 Satin chrome finish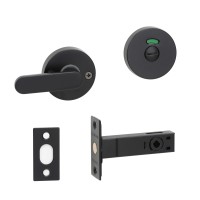 Surface Mount Indicator Bolts
Surface mount indicator bolts do not have a mortice for the door cavity, and are fixed to door or sliding doors on the door surface. Also DDA compliant, this range of indicator bolts are available in satin chrome and chrome plate.
DDA compliant indicator bolts
The 1992 Disability Discrimination Act (DDA) ensures that door hardware provides equitable access for those with disabilities. Equal access applies to buildings and premises. Door hardware is a key element to this access. All indicator bolts in Lemaar's range are DDA compliant, and compliment our entire DDA compliant door hardware range.
More information
To see the entire DDA compliant door hardware range click this link.
And for more information about DDA compliant door hardware, please refer to the below articles.
DDA, fire rated, marine grade door handle range - the Haro
DDA door hardware buying guide
Lemaar makes it easy to choose matching door hardware products so you achieve a complete solution right across your home or project. Use the product filter on the Products page to sort by door handle type and colour. Australian owned and designed, Lemaar offers artistry in door furniture. If you're a Builder you can connect with our Commercial Projects team or email your plans to tradequotations@lemaar.com.au