We've all been there - did I lock my door before leaving? The days of racing back home in a flurry are over thanks to smart locks. But it's not just the convenience they bring; these nifty devices offer an array of features that will have you wondering why you didn't switch sooner. So say goodbye to those midnight panic attacks and welcome your new trusted companion - Smart Locks by Lemaar.
What Is a Smart Lock?
Smart door locks are revolutionizing the way homeowners secure their homes. With five entry functions such as a simple key code, remote unlocking via the mobile app, manual key, FOB key, and fingerprint, - no physical keys necessary - you can have peace of mind that your home is safe and sound. But with such convenience comes questions about security. Are these electronic solutions completely reliable? Rest assured: the Lemaar Smart door range includes a stainless steel mortice that provides an additional level of strength and security.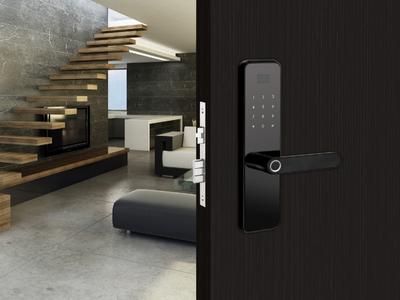 Are Smart Locks Secure?
While digital door locks offer a high level of security, it's no surprise that there may be some apprehension with new technology. As with any newly-developed devices, an element of doubt is only natural – but the solid structure and electronic components in these smart locking systems provide strong protection for your home.
What Makes Smart Locks Safe?


While traditional deadbolts have been around for ages, technology has taken door locks to the next level. In order to ensure maximum security of your home or office space, it's important to understand how electronic locks provide an additional layer of protection. Here are some key features that set these sophisticated locking systems apart from their humble predecessors:
Monitor your locks using your smartphone

The latest locking technology offers the ultimate peace of mind with an automated system that tracks every attempt and sends notifications straight to your phone! Upgrading to smart locks ensures you always have peace of mind knowing that your home is secure.

Keys are no longer needed

Before leaving the house, you need to ask yourself "Keys, wallet, and phone - check!". Keys, of course, are critical things. Smart locks eliminate the possibility of losing your keys. Instead of a traditional key, use your smartphone, and even just your thumbprint or fingerprint to enter.


The power of remote access

With the help of smart locks, you can fully control the security of your home. You can remotely unlock the Lemaar Rectangle and Radius smart lock via your mobile app.


Smart home connectivity

Lemaar smart locks are compatible with the Grid Connect smart home automation system, built to optimise your everyday living. Simply download the free Grid Connect app on your iOS or Android device and use your home Wi-Fi or mobile internet connection to control, customise and automate your product. It takes only minutes to set up using your 2.4 GHz Wi-Fi network, and there's a wide range of smart home products available that allow you to customise your system any way you like.



Designed for straightforward installation

Lemaar is an Australian-owned door hardware group, and we design all products here in Australia. We offer a fashionable range, and door hardware that's designed for straightforward installation.
Installation of new doors
Refer to the installation video, for guidance on a successful smart lock installation.

Retro-fitting Lemaar smart locks on an existing door
If you're removing and replacing a door handle with a Lemaar smart lock, check out this video that guides you through each step to retrofit your smart digital lock.
Retrofit video

Revamp your home with Lemaar door hardware: designed in Australia and made for Australian trends. Our DIY-friendly door handles make renovating easy, allowing you to achieve a successful transformation quickly and efficiently. Builders can take advantage of our Commercial Projects team by emailing plans or queries to tradequotations@lemaar.com.au.