A beautifully designed, multi function electronic door lock
Lemaar is an Australian owned door hardware business and we design all products in Australia for Australians.
Beautiful, smart and functional
Australians are passionate about their homes, and we've designed a stylish range of smart door locks, with superior security and strength to keep your home secure and family safe. Lemaar electronic door locks have been designed for straight forward installation, no matter if you are a DIYer or tradesperson.
Stunning, modern design
Beautiful curved design, with clean black lines, the Lemaar digital door lock range will make a statement at the entrance to your home.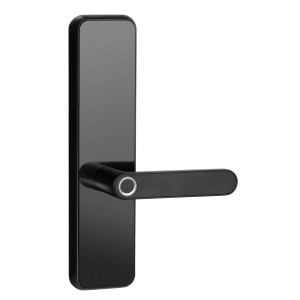 Complete Solution of matching interior door handles
The new Lemaar front door smart lock is another addition Lemaar's complete solution, with matching interior door handles in the Lemaar range.
Achieve a complete solution of matching door handles across your home
Lemaar makes choosing door hardware easy with our 'Complete Solution' of matching entry, passage and privacy door handles.
Here is a suggestion to consider, or you can use our product filter at this link to sort and browse our range by colour and door lock type.
Browse Lemaar's range of black interior door handles to find a match
Click this link to see our range of black inside door handles to find a style to match the front door digital lock.
Superior strength electronic door lock with stainless steel mortice lock
For peace of mind, the new digital front door lock includes a superior stainless steel mortice lock to keep your home secure and family safe.
Multiple functions - front door digital lock
The Lemaar front door digital lock includes multiple functions for seamless use and integration within your current smart home platform. This smart lock integrates with platforms including the Grid Connect smart home platform.
Smart lock entry functions
Keypad entry
Finger print entry
FOB near field entry with card (included in pack)
Electronic lock multi functions
Smart home hub not necessary as the Lemaar smart lock can operate independently
Integrates with

Grid Connect front door bell with camera
Keypad lights up when door lock is opened or closed
WiFi connectivity to your smart home hub
Integrates with Grid Connect smart home platform
Manual key entry override
Door lock warranty
Backed up with a market leading warranty, the new smart lock range is durable and has a quality you can feel.
Availability
Coming in Spring 2021.