Quick link, click the image below or this link, to go to the Rectangle Smart Lock page

Introducing the newest smart lock available for Builders across Australia
The new Rectangle smart lock by Lemaar brings a stylish new look to the smart lock and smart home space. Designed in Australia to meet the rising demand for smart home products, the Rectangle Smart Lock boasts multiple functions, and a stainless steel mortice for additional strength and security.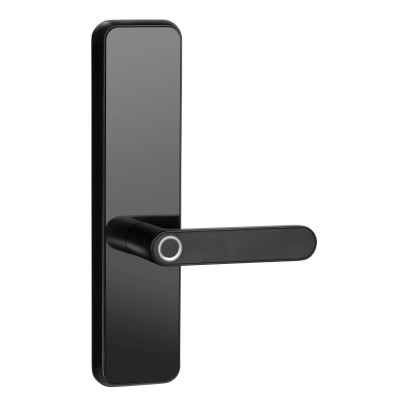 Multiple functions
The Rectangle Smart Lock offers the following functions
Fingerprint unlocking
Message display
Illuminated keypad
Remote unlocking via App
Wi-Fi connectivity
Key FOB to open
Premium mortice lock, stainless steel for superior strength
Mechanical key override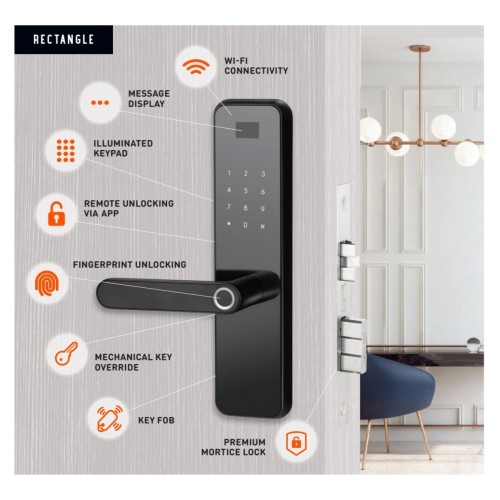 Designed in Australia
With style, security and ease of installation in mind, the Rectangle Smart Lock was designed by Lemaar in Australia, offering a stunning piece of door furniture. We think it's the most stylish digital lock available today.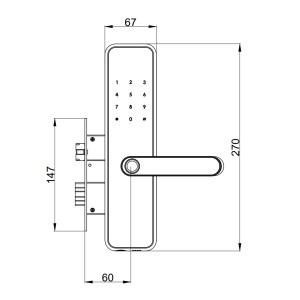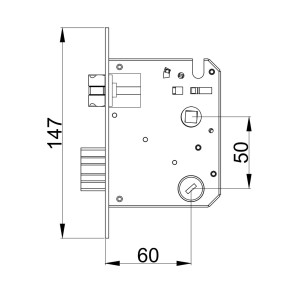 Style
With a sleek black finish and stunning round lines, the Rectangle Smart Lock allows smart lock customers to consider a new beautiful door handle. With a keypad that lights up, this digital lock will make an impressive impact at the entrance to your smart home.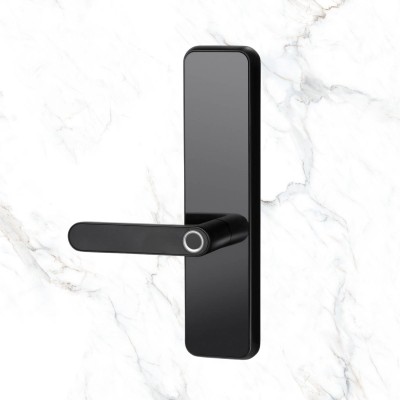 Security
Security is important for any home, and the Rectangle Smart Lock delivers with a stainless steel mortice, providing added strength to keep your home secure.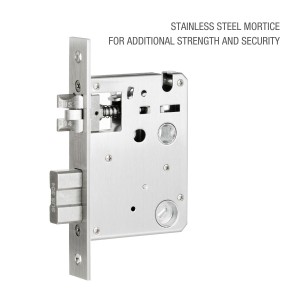 Ease of installation
Designed for efficient installation for Builders, and for installation by keen DIYers, this smart lock will appeal to a wide range of commercial and retail customers. The installation video will be available soon.
Specifications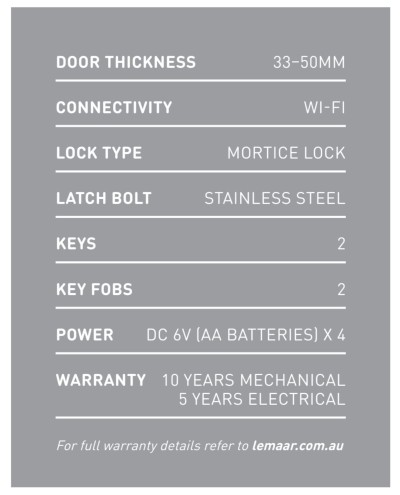 Brochure
To see the Lemaar Smart Lock brochure, either click the image below, or this link.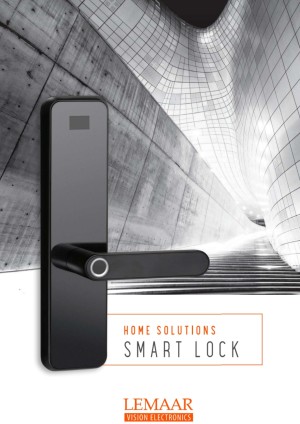 Complete solution
Lemaar makes choose door hardware easy with our complete solution approach. The Rectangle Smart Lock for front doors can be matched with any of the below internal door handle styles. This complete solution of front door handles and matching passage and privacy door handles, gives your home consistency with door handle colour, design and style.
Find out more
If you're a builder or in the Trade, and want to learn more about this new smart lock, please reach out to the Lemaar customer service team, via phone 03 9580 1630 or email customerservice@lemaar.com.au
For Builders, please email your plans to tradequotations@lemaar.com.au and we will reply with a costed door hardware schedule.
Lemaar door hardware
Lemaar makes it easy to choose matching door hardware products so you achieve a complete solution right across your home or project. Our range includes the latest colours and finishes including white and brushed brass door handles, plus fire rated, 316 marine grade stainless steel and DDA compliant door hardware. Use the product filter on the Products page to sort by door handle type and colour. Australian owned and designed, Lemaar offers artistry in door furniture. If you're a Builder you can connect with our Commercial Projects team or email your plans to tradequotations@lemaar.com.au